Internationally recognized and accredited: We are SASO certified!
The SASO Certification Programme for Saudi Arabia is a system developed by the Saudi Arabian Organization for Standards, Metrology and Quality (SASO). It includes regulations to ensure that products exported to Saudi Arabia meet the relevant standards and that manufacturers have effective quality management systems in place to ensure high quality at all times. The Saudi Quality Mark is therefore a certificate of conformity. Without this certificate, exports to Saudi Arabia are not possible.
ABC-Keramik was one of the first German companies in the ceramics industry to obtain this certificate, thus enabling further expansion of its activities in Saudi Arabia.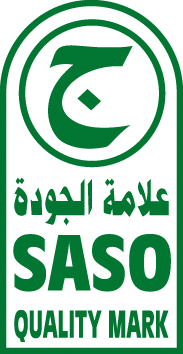 ABC-Keramik is a member of the European Hygienic Engineering & Design Group
We have joined the European Hygienic Engineering & Design Group (EHEDG). EHEDG was founded in 1989 with the aim of raising awareness of hygiene in food processing and packaging. The organisation is an expert community of machine and component manufacturers, specialists from the food industry, research institutes and health authorities. The core task of the EHEDG is to contribute to hygienic design and construction in all areas of food production and thus to ensure the safe production of food. As we offer a comprehensive portfolio of high-quality, easy-to-clean and durable floor ceramics for use in food processing, we have joined the European Hygienic Engineering & Design Group. In addition, our tiles prevent a high risk of slipping and offer slip resistance values from R 10 to R 12. Our floor ceramics are very well suited for the food processing industry and commercial kitchens.
Sortings marked with * can only be produced for the contract sector when larger quantities are purchased. We will be happy to help you if you have any questions.
Differences in colour, colour play and proportions may occur due to production/printing.